The Fourth Sunday in Lent
Sunday March 22, 2020
---
A quick word about how to worship from a distance.
This Sunday will be a "first" not only for us, but for churches all across the world. We will be worshipping together completely online. It will be awkward. It will be challenging. It won't feel the same or look exactly the same. But it will allow us to gather as God's people to worship Him and receive His Grace and Mercy!
With that in mind I want to encourage you to do a couple of things to make the most of this way of worship...
Set aside a special time where you are dedicated to worship. Don't just multitask your way through this.
Say a prayer before your time of worship that God would use this time through the Holy Spirit to strengthen and encourage your faith in Jesus.
Participate don't just listen! Worship is something we do together. In your homes, this may be awkward and uncomfortable, but remember when we gather together we speak the liturgy together, we pray our prayers together, we sing together, and we hear God's Word together. So in your homes try to do the same thing! Pray. Sing. Speak. Hear. Yes, at first it will be odd. It will be a little confusing. But we can do this together.
Remember that this is the Lord's time and He promises to be with us! Hold fast to His Word and promises because they are for you!
As a final encouragement, if you are able, PLEASE take a picture of your household worshipping God together and SHARE it on our Facebook page!
---
Before worship prayer - Almighty God, our heavenly Father, Your mercies are new unto us every morning, and though we have not deserved Your goodness, You abundantly provide for all our wants of body and soul. Give us Your Holy Spirit that we may heartily acknowledge Your merciful goodness toward us, give thanks for all Your benefits, and serve You in willing obedience; through Jesus Christ, our Lord. AMEN.
Opening Hymn: "In the Cross of Christ I Glory" LSB, hymn #427
In the cross of Christ I glory, Tow'ring o'er the wrecks of time.
All the light of sacred story Gathers round its head sublime.
When the woes of life o'ertake me, Hopes deceive, and fears annoy,
Never shall the cross forsake me; Lo, it glows with peace and joy.
When the sun of bliss is beaming Light and love upon my way,
From the cross the radiance streaming Adds more luster to the day.
Bane and blessing, pain and pleasure By the cross are sanctified;
Peace is there that knows no measure, Joys that through all time abide.
---
The following section may be read responsively in your household.
P: In the name of the Father and of the (+) Son and of the Holy Spirit.
C: Amen. (Matthew 28:19b)
P: If we say we have no sin, we deceive ourselves, and the truth is not in us.
C: But if we confess our sins, God, who is faithful and just, will forgive our sins and cleanse us from all unrighteousness. (1 John 1:8-9)
P: Dear Friends in Christ, let us humble our hearts before our Holy God and silently reflect upon our sins.
(Moment of silent reflection)
P: Let us then confess our sins to God our Father.
C: Most merciful God, we confess that we are by nature sinful and unclean. We have sinned against You in thought, word, and deed, by what we have done and by what we have left undone. We have not loved You with our whole heart; we have not loved our neighbors as ourselves. We justly deserve Your present and eternal punishment. For the sake of Your Son, Jesus Christ, have mercy on us. Forgive us, renew us, and lead us, so that we may delight in Your will and walk in Your ways to the glory of Your holy name. Amen
P: In the mercy of Almighty God, Jesus Christ was given to die for us, and for His sake God forgives us all our sins. To those who believe in Jesus Christ He gives the power to become the children of God and bestows on them His Holy Spirit. Go forth with His blessing and His forgiveness. May the Lord, who has begun this work in us, bring it to completion in the day of our Lord (+) Jesus Christ. (John 1:12, Philippians 1:6)
C: Amen.
P: The Lord be with you. (2 Timothy 4:22)
C: And also with you.
P: Let us pray . . . .Almighty God, our heavenly Father, we remain in darkness without Your light, and we walk in blindness if You do not lead. Even in our times of comfort in the darkness and times of willful blindness, You shine Your light of truth and call us Your children of light that we may see and live in Your grace. Help us to acknowledge Your goodness, give thanks for all Your blessings, and with eyes of faith look to You always that we serve You and others in willing obedience; through Jesus Christ, Your Son, our Lord, who lives and reigns with You and the Holy Spirit, one God, now and forever.
C: Amen
THE READING OF THE WORD
Old Testament Lesson: Isaiah 42:14-21 (From Darkness to Light)
"For a long time I have kept silent, I have been quiet and held myself back. But now, like a woman in childbirth, I cry out, I gasp and pant. I will lay waste the mountains and hills and dry up all their vegetation; I will turn rivers into islands and dry up the pools. I will lead the blind by ways they have not known, along unfamiliar paths I will guide them; I will turn the darkness into light before them and make the rough places smooth. These are the things I will do; I will not forsake them. But those who trust in idols, who say to images, 'You are our gods,' will be turned back in utter shame.
"Hear, you deaf; look, you blind, and see! Who is blind but my servant, and deaf like the messenger I send? Who is blind like the one committed to me, blind like the servant of the LORD? You have seen many things, but have paid no attention; your ears are open, but you hear nothing." It pleased the LORD for the sake of his righteousness to make his law great and glorious.
Epistle Lesson: Ephesians 5:8-14 (We are Children of Light)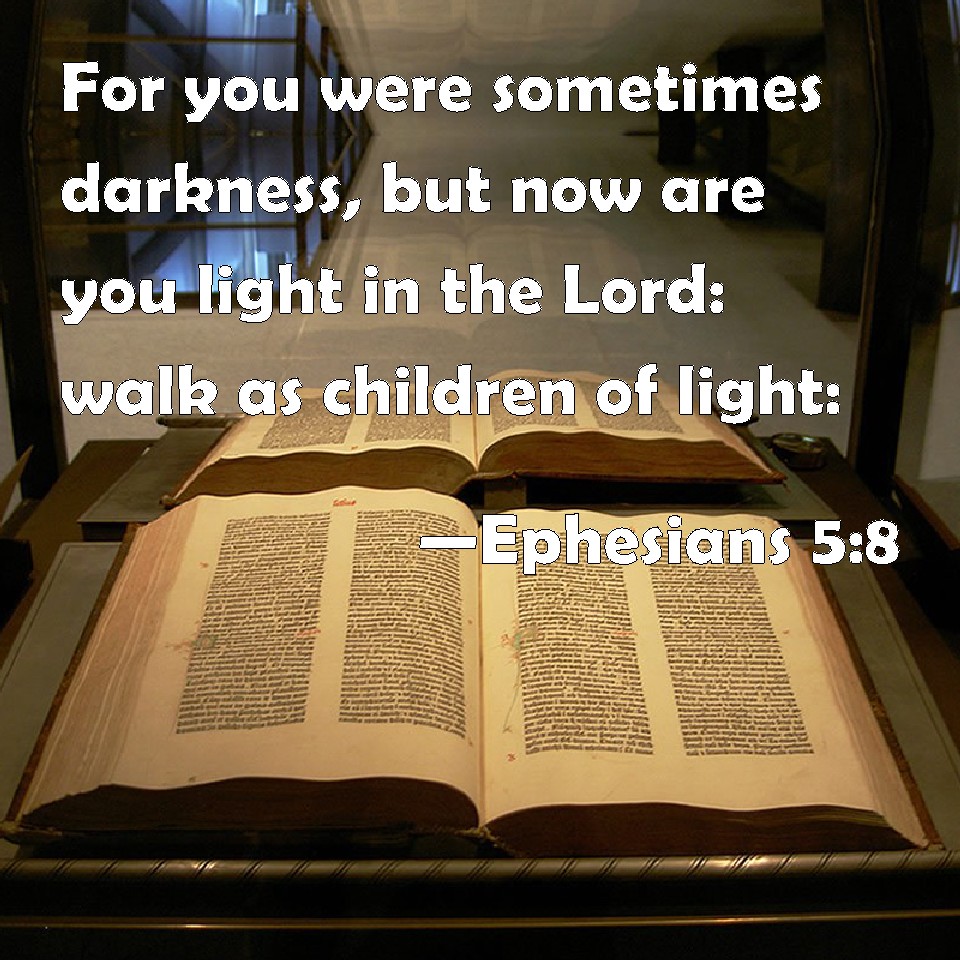 For you were once darkness, but now you are light in the Lord. Live as children of light (for the fruit of the light consists in all goodness, righteousness and truth) and find out what pleases the Lord. Have nothing to do with the fruitless deeds of darkness, but rather expose them. For it is shameful even to mention what the disobedient do in secret. But everything exposed by the light becomes visible, for it is light that makes everything visible. This is why it is said: "Wake up, O sleeper, rise from the dead, and Christ will shine on you."
Verse
C: Return to the Lord, your God, for He is gracious and merciful, slow to anger, and abounding in steadfast love, and abounding in steadfast love.
P: The Holy Gospel according to St. John, the ninth chapter.
C: Glory to you, O Lord.
Gospel Lesson: John 9:1-41 (From Blindness to Sight)
As he went along, he saw a man blind from birth. His disciples asked him, "Rabbi, who sinned, this man or his parents, that he was born blind?" "Neither this man nor his parents sinned," said Jesus, "but this happened so that the work of God might be displayed in his life. As long as it is day, we must do the work of him who sent me. Night is coming, when no one can work. While I am in the world, I am the light of the world." Having said this, he spit on the ground, made some mud with the saliva, and put it on the man's eyes. "Go," he told him, "wash in the Pool of Siloam" (this word means Sent). So the man went and washed, and came home seeing. His neighbors and those who had formerly seen him begging asked, "Isn't this the same man who used to sit and beg?" Some claimed that he was. Others said, "No, he only looks like him." But he himself insisted, "I am the man." "How then were your eyes opened?" they demanded. He replied, "The man they call Jesus made some mud and put it on my eyes. He told me to go to Siloam and wash. So I went and washed, and then I could see." "Where is this man?" they asked him. "I don't know," he said. They brought to the Pharisees the man who had been blind. Now the day on which Jesus had made the mud and opened the man's eyes was a Sabbath. Therefore the Pharisees also asked him how he had received his sight. "He put mud on my eyes," the man replied, "and I washed, and now I see." Some of the Pharisees said, "This man is not from God, for he does not keep the Sabbath." But others asked, "How can a sinner do such miraculous signs?" So they were divided. Finally they turned again to the blind man, "What have you to say about him? It was your eyes he opened." The man replied, "He is a prophet." The Jews still did not believe that he had been blind and had received his sight until they sent for the man's parents. "Is this your son?" they asked. "Is this the one you say was born blind? How is it that now he can see?" "We know he is our son," the parents answered, "and we know he was born blind. But how he can see now, or who opened his eyes, we don't know. Ask him. He is of age; he will speak for himself." His parents said this because they were afraid of the Jews, for already the Jews had decided that anyone who acknowledged that Jesus was the Christ would be put out of the synagogue. That was why his parents said, "He is of age; ask him." A second time they summoned the man who had been blind. "Give glory to God, " they said. "We know this man is a sinner." He replied, "Whether he is a sinner or not, I don't know. One thing I do know. I was blind but now I see!" Then they asked him, "What did he do to you? How did he open your eyes?" He answered, "I have told you already and you did not listen. Why do you want to hear it again? Do you want to become his disciples, too?" Then they hurled insults at him and said, "You are this fellow's disciple! We are disciples of Moses! We know that God spoke to Moses, but as for this fellow, we don't even know where he comes from." The man answered, "Now that is remarkable! You don't know where he comes from, yet he opened my eyes. We know that God does not listen to sinners. He listens to the godly man who does his will. Nobody has ever heard of opening the eyes of a man born blind. If this man were not from God, he could do nothing." To this they replied, "You were steeped in sin at birth; how dare you lecture us!" And they threw him out. Jesus heard that they had thrown him out, and when he found him, he said, "Do you believe in the Son of Man?" "Who is he, sir?" the man asked. "Tell me so that I may believe in him." Jesus said, "You have now seen him; in fact, he is the one speaking with you." Then the man said, "Lord, I believe," and he worshiped him. Jesus said, "For judgment I have come into this world, so that the blind will see and those who see will become blind." Some Pharisees who were with him heard him say this and asked, "What? Are we blind too?" Jesus said, "If you were blind, you would not be guilty of sin; but now that you claim you can see, your guilt remains.
P: This is the Gospel of the Lord.
C: Praise to You, O Christ.
Sermon Hymn: "Word of God, Come Down on Earth" (LSB, hymn #545)
Word of God, come down on earth, Living rain from heav'n descending;
Touch our hearts and bring to birth Faith and hope and love unending.
Word almighty, we revere You; Word made flesh, we long to hear You.
Word eternal, throned on high, Word that brought to life creation,
Word that came from heav'n to die, Crucified for our salvation,
Saving Word, the world restoring, Speak to us, Your love outpouring.
Word that caused blind eyes to see, Speak and heal our mortal blindness;
Deaf we are: our healer be; Loose our tongues to tell Your kindness.
Be our Word in pity spoken, Heal the world, by sin now broken.
Word that speaks God's tender love, One with God beyond all telling,
Word that sends us from above, God the Spirit, with us dwelling,
Word of truth, to all truth lead us; Word of life, with one bread feed us.
Sermon: "Eyes that See" (John 9:1-41)
Together in your household you may speak the Apostles' Creed:
I believe in God, the Father Almighty, maker of heaven and earth.
And in Jesus Christ, his only Son, our Lord, who was conceived by the Holy Spirit, born of the virgin Mary, suffered under Pontius Pilate, was crucified, died and was buried. He descended into hell. The third day he rose again from the dead. He ascended into heaven and sits at the right hand of God the Father Almighty. From thence he will come to judge the living and the dead.
I believe in the Holy Spirit, the holy Christian Church, the communion of saints, the forgiveness of sins, the resurrection of the body, and the life everlasting. Amen
Offering:
In this time of staying in our homes, we need to also remember our care for the house of the Lord. If you normally feel led to contribute to the offering plate, we recommend electronic giving. Consistent offering does help us to
budget for the care of building, church staff, school support and the surprise extras like equipment to live-stream our preaching!
We ask, if at all possible, that you please continue your offerings as we have ongoing and regular expenses with utilities, payroll, and mortgage among others.


Ways to give:
1. Mail in your offering check to the church office at: St. Paul's Lutheran Church and School 1780 Career Center Road, Bourbonnais, IL 60914.
2. You can give online. You can go to our website.
3. You can text-to-give. Text your amount to 815-205-1213. Just click on the link and follow the directions.

If you are able to increase your offering during this time to help us, we would greatly appreciate it.
PRAYER OF THE CHURCH
In addition to the prayers here, you may wish as a family to add your prayers specifically to the suggested prayer guide (page 2) of our weekly prayer sheet
P: Let us pray for the whole church of God in Christ Jesus and for all people according to their needs.
Gracious Lord, shine Your light of mercy and grace into our darkened hearts of sin and eyes blinded to Your will and ways, so that we know the fullness of Your forgiveness, life, and peace. Lord, in Your mercy,
C: hear our prayer.
P: Healing Lord, shine Your light of peace and healing to all who seek relief, for the sick and dying, for those troubled physically, spiritually, emotionally, and mentally, and for the grieving and the dying, that Your comfort be known, [especially . . .]. Lord, in Your mercy,
C: hear our prayer.
P: Lord of all nations, shine Your light to all places in this world and to the leaders of cities, states, and countries, that Your light guide and direct them so that peace be had and justice faithfully served. Give courage and diligence to all who work to defend liberties and life, and to those who speak for those who cannot speak for themselves. Lord, in Your mercy,
C: hear our prayer.
P: Lord of the Church, shine Your light upon all You have enabled to speak and proclaim Your Word. Be with our congregation, that we remain united in truth, love, faith, and service. Give courage to live as Your witnesses, that many who remain in darkness rejoice in the light of truth. Lord, in Your mercy,
C: hear our prayer.
P: Lord of all seasons, in this season of Lent shine Your light upon us as we examine ourselves, see our sins, and know our need for a Savior. As we continue to follow Christ to the cross, draw our hearts and minds to You and
the joys that await. Lord, in Your mercy,
C: hear our prayer.
(Additional prayers of the congregation. Each petition concludes with. . . )
P: . . . Lord, In Your Mercy,
C: Hear Our Prayer.
P: Into your hands, O Lord, we commend all for whom we pray, trusting in your mercy; through your Son, Jesus Christ, our Lord, who has taught us to pray:
Our Father who art in heaven, hallowed be thy name, thy kingdom come, thy will be done on earth as it is in heaven. Give us this day our daily bread; and forgive us our trespasses as we forgive those who trespass against us; and lead us not into temptation, but deliver us from evil. For thine is the kingdom and the power and the glory forever and ever. Amen
BENEDICTION
P: The Lord bless you and keep you.
The Lord make his face shine on you and be gracious to you.
The Lord look upon you with favor and (+) give you peace.
C: Amen
Closing Hymn: "Amazing Grace" LSB, hymn #744
Amazing grace - how sweet the sound - That saved a wretch like me!
I once was lost but now am found, Was blind but now I see!
The Lord has promised good to me, His Word my hope secures;
He will my shield and portion be As long as life endures.
Through many dangers, toils, and snares I have already come;
His grace has brought me safe thus far, His grace will lead me home.
Yes, when this flesh and heart shall fail And mortal life shall cease,
Amazing grace shall then prevail In heaven's joy and peace.
When we've been there ten thousand years, Bright shining as the sun,
We've no less days to sing God's praise Than when we'd first begun.
+ STAY STRONG IN THE LORD +
After worship prayer
Almighty and everlasting God, of Your great mercy in Jesus Christ You have granted us forgiveness of sin and all things pertaining to life and godliness. Send us Your Holy Spirit that He may so rule our hearts that we, being ever mindful of Your fatherly mercy, may serve You in holiness and pureness of living and may give You continual thanks for all Your goodness; through Jesus Christ, our Lord. AMEN.
---
[The legal stuff:
Portions of this service may be copyrighted under:
Divine Service, Setting One from Lutheran Service Book © 2006 Concordia Publishing House. Reprinted with permission. Scripture quotations taken from THE HOLY BIBLE, NEW INTERNATIONAL VERSION®, NIV®. Copyright © 1973, 1978, 1984 by International Bible Society®. Used by permission. Created by Lutheran Service Builder © 2006 Concordia Publishing House.
Music: Music re-printed through CCLI License #640335 or through hymnal/songbook ownership or song is Public Domain and not copyrighted. LSB427 - In the Cross of Christ I Glory: Text (sts. 1–4) and Music: Public domain; LSB545 - Word of God, Come Down on Earth: Text (sts. 1–4): © James Quinn Used by permission: LSB Hymn License .NET, number 100012920.; admin. Selah Publishing Co., Inc. Used by permission: LSB Hymn License .NET, number 100012920; LSB744 - Amazing Grace: Text (sts. 1–5) and Music: Public domain.]