Lenten Midweek
Wednesday, March 25, 2020
---
To Seek and to Save: The Cup that I Drink
Theme Verse: Jesus said to them, "The cup that I drink, you will drink." Mark 10:39
---
A quick word about how to worship from a distance.
A note about this Online Service: Worshipping online like this will probably be awkward. It will be challenging. It won't feel the same or look exactly the same. But it will allow us to gather as God's people to worship Him and receive His Grace and Mercy!
With that in mind I want to encourage you to do a couple of things to make the most of this way of worship...
Set aside a special time where you are dedicated to worship. Don't just multitask your way through this.
Say a prayer before your time of worship that God would use this time through the Holy Spirit to strengthen and encourage your faith in Jesus.
Participate don't just listen! Worship is something we do together. In your homes, this may be awkward and uncomfortable, but remember when we gather together we speak the liturgy together, we pray our prayers together, we sing together, and we hear God's Word together. So in your homes try to do the same thing! Pray. Sing. Speak. Hear. Yes, at first it will be odd. It will be a little confusing. But we can do this together.
Remember that this is the Lord's time and He promises to be with us! Hold fast to His Word and promises because they are for you!
As a final encouragement, if you are able, PLEASE take a picture of your household worshipping God together and SHARE it on our Facebook page!
If you wish to download the bulletin (and announcements and prayer sheet for weekend services), click here.
---
We're So Glad You Are Joining Your Brothers and Sisters in Christ Today!
Opening Hymn: "We Sing the Praise of Him Who Died" LSB, hymn #429
We sing the praise of Him who died,
Of Him who died upon the cross.
The sinner's hope let all deride;
For this we count the world but loss.

Inscribed upon the cross we see
In shining letters, "God is love."
He bears our sins upon the tree;
He brings us mercy from above.

The cross! It takes our guilt away;
It holds the fainting spirit up;
It cheers with hope the gloomy day
And sweetens ev'ry bitter cup

It makes the coward spirit brave
And nerves the feeble arm for fight;
It takes the terror from the grave
And gilds the bed of death with light;

The balm of life, the cure of woe,
The measure and the pledge of love,
The sinner's refuge here below,
The angels' theme in heav'n above.

To Christ, who won for sinners grace
By bitter grief and anguish sore,
Be praise from all the ransomed race
Forever and forevermore.


INVOCATION AND OPENING RESPONSES
(Psalm 6:1-5, 9)

P: In the name of the Father and of the + Son and of the Holy Spirit.
C: Amen.
P: O Lord, rebuke me not in Your anger, nor discipline me in Your wrath.
C: Be gracious to me, O Lord, for I am languishing;
P: Heal me, O Lord, for my bones are troubled.
C: My soul also is greatly troubled. But You, O Lord - how long?
P: Turn, O Lord, deliver my life;
C: Save me for the sake of Your steadfast love.
P: For in death there is no remembrance of You; in Sheol who will give You praise? …
C: The Lord has heard my plea; the Lord accepts my prayer.

CONFESSION AND FORGIVENESS

P: In this Lenten Season, we gather at the cross, to confess our sins and seek our Lord's gracious forgiveness. Knowing that God hears our prayers, let us confess our sins to Him . . . . Almighty God,
C: We have sinned against You in our thoughts, words and actions. Instead of serving others in love, as Jesus did, we seek to put our own good above the good of others. We do not truly love our neighbors as we love ourselves. Forgive us for Jesus' sake and help us to live as Your humble servants. Amen.
P: Children of God, Hear His Word and His promises! God sent His Son to be our Savior. On the cross Jesus suffered the penalty of death in our place. Through His suffering, death and resurrection we have forgiveness for our sins and the gift of eternal life. I announce to you that your sins are forgiven in the name of the Father and of the + Son and of the Holy Spirit.
C: The Lord has heard my plea; the Lord accepts my prayer! Amen!

PRAYER OF THE DAY

P: Let us pray, . . .Almighty God, Jesus our Lord came not to be served but to serve. He came to give His life as a ransom for us, to bring us into a right relationship with you. Obedient to Your holy will, He drank the cup of suffering. To save us, He drank the cup of your wrath against sin. If we are mocked or ridiculed for our faith, help us to bear that cross in confident faith. We ask You to be with Your saints around the world who are persecuted for their faith. Help them to bear that suffering with patience, knowing that through Christ Jesus, the victory already belongs to them. Hear our prayer and accept our praise in the name of Jesus, who offered up His life for us.
C: Amen.

SCRIPTURE READINGS
Old Testament Reading: Isaiah 51:21-23 (God Pleads The Cause Of His People)

Therefore hear this, you who are afflicted, who are drunk, but not with wine: Thus says your Lord, the Lord, your God who pleads the cause of his people: "Behold, I have taken from your hand the cup of staggering; the bowl of my wrath you shall drink no more; and I will put it into the hand of your tormentors, who have said to you, 'Bow down, that we may pass over'; and you have made your back like the ground and like the street for them to pass over."
Epistle Reading: 1 Thessalonians 5:8-11 (Encourage One Another)

But since we belong to the day, let us be sober, having put on the breastplate of faith and love, and for a helmet the hope of salvation. For God has not destined us for wrath, but to obtain salvation through our Lord Jesus Christ, who died for us so that whether we are awake or asleep we might live with him. Therefore encourage one another and build one another up, just as you are doing.


Gospel Reading: Mark 10:35-45 (Jesus Drinks the Cup of God's Wrath)
And James and John, the sons of Zebedee, came up to him and said to him, "Teacher, we want you to do for us whatever we ask of you." And he said to them, "What do you want me to do for you?" And they said to him, "Grant us to sit, one at your right hand and one at your left, in your glory." Jesus said to them, "You do not know what you are asking. Are you able to drink the cup that I drink, or to be baptized with the baptism with which I am baptized?" And they said to him, "We are able." And Jesus said to them, "The cup that I drink you will drink, and with the baptism with which I am baptized, you will be baptized, but to sit at my right hand or at my left is not mine to grant, but it is for those for whom it has been prepared." And when the ten heard it, they began to be indignant at James and John. And Jesus called them to him and said to them, "You know that those who are considered rulers of the Gentiles lord it over them, and their great ones exercise authority over them. But it shall not be so among you. But whoever would be great among you must be your servant, and whoever would be first among you must be slave of all. For even the Son of Man came not to be served but to serve, and to give his life as a ransom for many."


Sermon Hymn: "Not All the Blood of Beasts" LSB, hymn #431

Not all the blood of beasts
On Jewish altars slain
Could give the guilty conscience peace
Or wash away the stain.


But Christ, the heav'nly Lamb,
Takes all our sins away;
A sacrifice of nobler name
And richer blood than they.


My faith would lay its hand
On that dear head of Thine,
While as a penitent I stand,
And there confess my sin.


My soul looks back to see
The burden Thou didst bear
When hanging on the cursèd tree;
I know my guilt was there.


Believing, we rejoice
To see the curse remove;
We bless the Lamb with cheerful voice
And sing His bleeding love.


Sermon: "The Cup That I Drink" (Mark 10:35-45)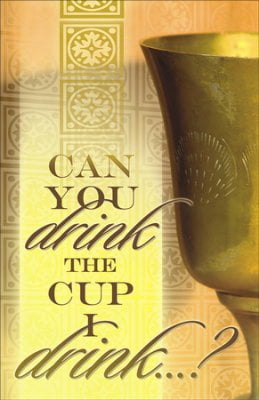 APOSTLES' CREED
I believe in God, the Father Almighty, maker of heaven and earth.
And in Jesus Christ, his only Son, our Lord, who was conceived by the Holy Spirit, born of the virgin Mary, suffered under Pontius Pilate, was crucified, died and was buried. He descended into hell. The third day he rose again from the dead. He ascended into heaven and sits at the right hand of God the Father Almighty. From thence he will come to judge the living and the dead.
I believe in the Holy Spirit, the holy Christian Church, the communion of saints, the forgiveness of sins, the resurrection of the body, and the life everlasting. Amen
OFFERING
In this time of staying in our homes, we need to also remember our care for the house of the Lord. If you normally feel led to contribute to the offering plate, we recommend electronic giving. Consistent offering does help us to budget for the care of building, church staff, school support and the surprise extras like equipment to live-stream our preaching!
We ask, if at all possible, that you please continue your offerings as we have ongoing and regular expenses with utilities, payroll, and mortgage among others.


Ways to give:
1. Mail in your offering check to the church office at: St. Paul's Lutheran Church and School 1780 Career Center Road, Bourbonnais, IL 60914.
2. You can give online. You can go to our website.
3. You can text-to-give. Text your amount to 815-205-1213. Just click on the link and follow the directions.

If you are able to increase your offering during this time to help us, we would greatly appreciate it.
PRAYERS OF THE CHURCH

P: Let us pray, . . . Let the incense of our repentant prayer ascend before You, O Lord, and let Your loving-kindness descend on us that, with purified minds, we may sing Your praises with the Church on earth and the whole heavenly host and may glorify You forever.

(Silent Prayer)

P: Lord Jesus, You did not come among us to be served, but to serve and to give Your life to ransom us. Help us to walk in Your footsteps, serving others in Your name and bringing to them the good news of salvation. Jesus, Servant-King,
C: Hear our prayer.
P: Lord Jesus, there are many people who could benefit from our loving service. Help us to seek out opportunities to bring hope and comfort to those who are hurting and all those we name in our hearts. Jesus, Servant-King,
C: Hear our prayer.
P: Lord Jesus, You drained the cup of suffering and wrath so that we would never drink from it. Through faith in Your name we have forgiveness for our sins. Whenever we come to Your table, O Lord, feed us with Your body and blood in Your holy Supper. Keep our faith strong until the day when we live in Your presence forever. Jesus, Servant-King,
C: Hear our prayer.
P: O Lord, remember us in Your kingdom and teach us to pray:
C: Our Father who art in heaven, hallowed be thy name, thy kingdom come, thy will be done on earth as it is in heaven. Give us this day our daily bread; and forgive us our trespasses as we forgive those who trespass against us; and lead us not into temptation, but deliver us from evil. For thine is the kingdom and the power and the glory forever and ever. Amen

BLESSING

P: Whoever would be great among you must be your servant,
C: And whoever would be first among you must be slave of all.
P: For even the Son of Man came not to be served but to serve,
C: And to give His life as a ransom for many. (Mark 10:44-45)
P: Now may the Lord of peace Himself give you peace at all times in every way. The Lord (+) be with you all. (2 Thessalonians 3:16)
C: Amen.
Closing Hymn: "Glory Be to Jesus" LSB, hymn #433

Glory be to Jesus, Who in bitter pains
Poured for me the lifeblood From His sacred veins!

Grace and life eternal In that blood I find;
Blest be His compassion, Infinitely kind!


Blest through endless ages Be the precious stream
Which from endless torment Did the world redeem!


Abel's blood for vengeance Pleaded to the skies;
But the blood of Jesus For our pardon cries.


Oft as earth exulting Wafts its praise on high,
Angel hosts rejoicing Make their glad reply.


Lift we, then, our voices, Swell the mighty flood;
Louder still and louder Praise the precious blood!



+ STAY STRONG IN THE LORD!! +
[The Legal stuff:
Portions of this service may be copyrighted under: By Carol Geisler. © 2020 Creative Communications for the Parish, a division of Bayard, Inc., 1564 Fencorp Dr., Fenton, MO 63026. 800-325-9414. www.creativecommunications.com. All rights reserved.
Music: Music re-printed through CCLI License #640335 or through hymnal/songbook ownership or song is Public Domain and not copyrighted. TLH258 - Lord of Our Life and God of Our Salvation: Text and Music: Public domain; LSB664 - Fight the Good Fight: Text and Music: Public domain.]